We are happy to let you know, that in our most recent update we have added various new rankings and created a page dedicated specifically to showing you various rankings of players and countries. This gives you much better insight into how you and your friends are progressing the game and what it will take to beat them and climb to the top of the rankings yourself!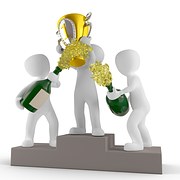 Check the full stats at http://warclicks.com/stats
What all can you check out?
Firstly, you can now see the full rankings of top countries by score and total players that fight for that country. Go check it out and you'll notice that numbers are not everything, it's also the quality of the soldiers fighting for a country that can make or break a country's attempt to become the best!
Also have a look at the full player list rankings by score and use it to follow your progress and power compared to other players. Do you have what it takes to climb to the top?
Your progress is now also ranked daily under the game screen. We challenge you to become a famed soldier by being one of the top 10 players daily either by score or achievements gathered!
We have tons of new ranking ladders in planned up and also other surprises up in our sleeves spice the competition up even further. Stay tuned for more – meanwhile keep fighting for the rankings!